An Account of James Monroe's Land Holdings
---
© Copyright and All Rights Reserved
By Christopher Fennell


---
V. Oak Hill Plantation, Loudoun County
Monroe purchased the land on which Oak Hill was located jointly with his uncle Judge Joseph Jones of Fredericksburg, in 1794. The property consisted of approximately 4,400 acres, which they had purchased from Colonel Charles Carter of Loudoun County. Monroe inherited all interests in this land when his uncle died in 1805 with no heirs. Jones' will indicated that Monroe held the land in a moiety share. Jones' son, Joseph Jones, Jr., had lived on the property until his death, predeasing his father (Gawalt 1993: 255, 257; Hellman 1997a: 17).
In 1826, Monroe was forced to sell off most of his holdings in Albemarle County, including his home at the Highlands, to pay off his debts to the United States Bank. He had attempted to sell the Oak Hill plantation for this purpose over a decade earlier. A notice of land sale in 1810 described the property as follows:

LOUDOUN LAND
FOR SALE


For sale on Thursday, the 21st of December next on the premisies, the tract of LAND on which the late Judge Jones resided in Loudoun County with about 25 slaves, and the stock of Horses, Cattle, and Hogs, on the estate. The tract contains nearly 2000 acres, and possesses many advantages which entitle it to the attention of those who may wish to reside, in that highly improved part of our country. Two merchant mills are in the neighbourhood, one on the adjoining estate, and the other within two miles. It is 10 miles from Leesburg, 35 from Alexandria and 40 from Georgetown. The new, Turn-pike from Alexandria crosses a corner of the land, and terminates at the nearest merchant mill. The whole tract is remarkably well watered, Little river passing through the middle of it, and many small streams on each side emptying into that river. About 50 or 60 acres are already well set with timothy, and at leats 300 acres are capable of being made excellent meadow. It will be divided into tracts of different dimensions to suit the convenience of purchasers. A credit of one, two and three years will be allowed. Bonds with approved security, and a trust on the land will be required. The negroes are supposed to be very valuable, some of them being good house servants, and the others, principally, young men and women. For them the same terms of credit will be allowed, and that of a year for every other article.

N.B. The above lands, being yet unsold, notice is given that they will be disposed of, by private sale, upon terms which will be made known on application to Israel Lacy Esq. of Goshen, Col. Armstead T. Mason, near Leesburg, Maj. Charles Fenton Mercer of Leesburg, or to the subscriber, near Milton in Albemarle county.

JAMES MONROE.
December, 23d 1809.

(The Washingtonian, Vol. 2, Issue 62, page 4, col. 3, Feb. 6, 1810, published in Leesburg, Virginia)
Monroe continued these efforts again in the Spring of 1825. In an advertisement dated April 12, 1825, he listed his residence as Oak Hill, Loudoun County, and stated: "With a view to a sale of the land above described, to the highest bidder, in small tracts, and with liberal credit, I will attend on the premises, on the first Monday in June next" (The Richmond Enquirer, May 17, 1825). However, he was unable to obtain a selling price that he found acceptable for the Oak Hill property in the course of those efforts (Ammon 1971: 553; Hellman 1997a: 19).

The Monroes visited and stayed at Oak Hill often before 1826, and began construction of a new main house, built of brick with a large portico, in 1822. The house was built by James Hoban, using design suggestions by Thomas Jefferson. For example, Jefferson sent Monroe drawings and the following explanation of his suggestions in a letter on June 27, 1820:



ThJ to the President
Instead of the unintelligible sketch I gave you the other day I send it drawn more at large. Mrs. Monroe & yourself may take some hints from it for a better plan of your own. [This drawing] supposes 10 [feet] in front, and 8 [feet] in flank added to your sills. [A] flat of 12.4 square is formed at the top, to make your present rafters answer, & to lighten the appearance of the roof. Affectionale and respectful salutations. (Jefferson 1820)

The next year, Monroe wrote to William Benton, who managed the plantation and supervised the ongoing project of building the main house at that time. Monroe sent to Benton with his letter of January 13, 1821 "a plan of a house which Col. Bomford has drawn for us and [of which we] very much approve. It is a square building, with two wings, which latter, being one story only will take much fewer bricks than one entire building." (Monroe 1821, quoted in Hellman 1997b: 50).

An 1853 map of Loudoun County by Yardley Taylor included an artist's rendering of the Oak Hill manor house and the nearby overseer's house. This manager's house contained six rooms and was built of stone and wood frame. It was used as a residence by Monroe's brother, Andrew, in the period of 1808 through 1817, when Andrew managed the farm, and was later occupied by William Benton. James and his wife Elizabeth stayed at this smaller house when visiting the farm in earlier years and arranging for construction of the larger manor house (Hellman 1997b: 48). The 1853 rendering also shows a set of steps off each side of the south portico of the manor house, which were likely included in Monroe's original design, but were later removed by subsequent owners of the property (Hellman 1997b: 53).

Monroe treated Oak Hill as a primary residence from 1823 until his death on July 4, 1831. He retired to Oak Hill after his second term as President expired in March, 1825. During his retirement years he served as chairman of the Virginia Constitutional Convention for revising the state constitution, as a local magistrate in Loudoun, and as a member of the Board of Visitors for the newly-organized University of Virginia (Head 1908:141-142). John Quincy Adams succeeded Monroe as President, and Adams and General Lafayette visited Monroe at Oak Hill on August 9, 1825 (Head 1908:142-144).

Monroe's wife, Elizabeth, died at Oak Hill on September 23, 1830. After her death, Monroe moved to New York to live with his youngest daughter. He wrote to James Madison on April 11, 1831, stating: "It is very distressing to me to sell my property in Loudoun, for besides parting with all I have in the State, I indulged a hope, if I could retain it, that I might be able occasionally to visit it, and meet my friends, or many of them, there" (quoted in Head 1908:142). He died in New York City on July 4 of that year.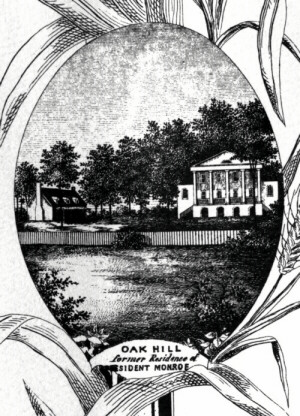 Oak Hill Plantation, South Facade, 1853 Rendering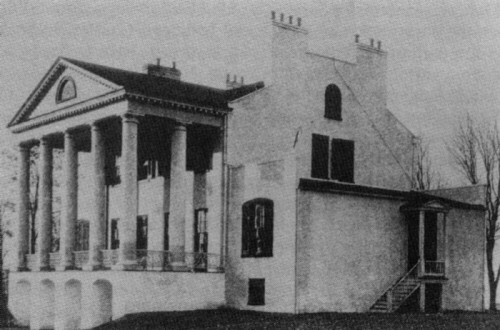 South Facade and Portico, circa 1915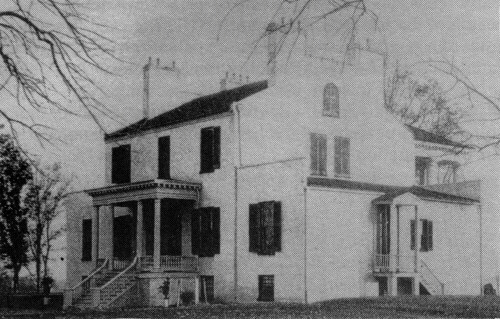 North Facade, circa 1880s
The house was surveyed in 1937 by researcher Elizabeth Morgan, as part of the "historical inventory" compiled by the Work Progress Administration of Virginia. Morgan (1937: 2-3) described the architectural features of Oak Hill as follows:

The original dormer cottage was bequeathed to Monroe by an Uncle, Judge Joseph Jones. "Oak Hill" was planned by Monroe and superintended by an Englishman named William Benton. The home, 50 by 90 feet, is a stately mansion of the old Virginia style, being surrounded by a grove of magnificent oaks, locusts, and poplars covering several acres. A wide Greek portico, overlooking private gardens, fronts south with massive Doric columns, 9 feet in circumference. These columns, 30 feet in height, are beautifully proportioned of hollow brick and stuccoed. The building is cream brick construction, three stories including a basement. Simple, but solidly and beautifully built. The bricks were all burned on the place, and all the inside work was cut out by hand. The marble and mantels in the drawing and dining rooms were ordered for Monroe by La Fayette and sent over to him from Italy.
Morgan's report is available on-line from the Library of Virginia's digital archives. The Oak Hill mansion has remained in private hands and stands today in a form showing a number of additions and renovations over the years.


South Facade today
North Facade today
---
To view a particular topic on Monroe's land holdings,
click on the desired subject below:

Return to Introduction

Ash Lawn-Highland Museum Web Page
Last Modified: September 2, 2012