The Plymouth Colony Archive Project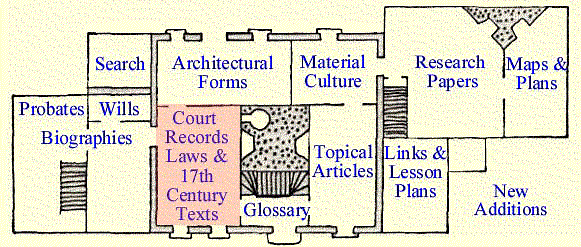 Mourt's Relation: A Journal of the Pilgrims at Plymouth, 1622, Part IV
---
Caleb Johnson, a member of the General Society of Mayflower Descendants, provides the following comments on this hypertext version:

Mourt's Relation was written primarily by Edward Winslow, although William Bradford appears to have written most of the first section. Written between November 1620 and November 1621, it describes in detail what happened from the landing of the Pilgrims at Cape Cod, though their exploring and eventual settling at Plymouth, to their relations with the surrounding Indians, up to the First Thanksgiving and the arrival of the ship Fortune. Mourt's Relation was first published in London in 1622, presumably by George Morton (hence the title, Mourt's Relation).
This version of Mourt's Relation is based on a University Microfilm (Ann Arbor, Michigan) facimilie edition of the original 1622 edition, to which I have updated the spelling to modern American-English standards. Then I adapted the general paragraphing scheme from the 1969 Dwight Heath version, which is clearly more appropriate for web page presentation.
Our thanks to Mr. Johnson for presenting this hypertext version of Mourt's Relation. Go to Mr. Johnson's Mayflower History page.
---
---
A
JOURNEY TO THE
Kingdom of NEMASKET
in defense of the Great King
MASSASOIT, against the Narragansets,
and to revenge
the supposed Death
of our Interpreter
Tisquantum
---
At our return from Nauset, we found it true that Massasoit was put from his country by the Narragansets. Word also was brought unto us that Corbitant, a petty sachem or governor under Massasoit (whom they ever feared to be too conversant with the Narragansets), was at Nemasket, who sought to draw the hearts of Massasoit's subjects from him, speaking also disdainfully of us, storming at the peace between Nauset, Cummaquid, and us, and at Tisquantum, the worker of it; also at Tokamahamon, and one Hobomok (two Indians, or Lemes, one of which he would treacherously have murdered a little before, being a special and trusty man of Massasoit's).
Tokamahamon went to him, but the other two would not; yet put their lives in their hands, privately went to see if they could hear of their king, and lodging at Nemasket were discovered to Corbitant, who set a guard to beset the house, and took Tisquantum (for he had said, if he were dead, the English had lost their tongue) Hobomok seeing that Tisquantum was taken, and Corbitant held a knife at his breast, being a strong and stout man, brake from them and came to New Plymouth, full of fear and sorrow for Tisquantum, whom he thought to be slain.
Upon this news the company assembled together, and resolved on the morrow to send ten men armed to Nemasket, and Hobomok for their guide, to revenge the supposed death of Tisquantum on Corbitant our bitter enemy, and to retain Nepeof, another sachem or governor, who was of this confederacy, till we heard what was become of our friend Massasoit.
On the morrow we set out ten men armed, who took their journey as aforesaid, but the day proved very wet. When we supposed we were within three or four miles of Nemasket, we went out of the way and stayed there till night, because we would not be discovered. There we consulted what to do, and thinking best to beset the house at midnight, each was appointed his task by the captain, all men encouraging one another to the utmost of their power. By night our guide lost his way, which much discouraged our men, being we were wet, and weary of our arms: but one of our men, having been before at Nemasket, brought us into the way again.
Before we came to the town, we sat down and ate such as our knapsacks afforded. That being done, we threw them aside, and all such things as might hinder us, and so went on and beset the house, according to our last resolution. Those that entered demanded if Corbitant were not there: but fear had bereft the savages of speech. We charged them not to stir, for if Corbitant were not there, we would not meddle with them; if he were, we came principally for him, to be avenged on him for the supposed death of Tisquantum, and other matters: but howsoever, we would not at all hurt their women, or children. Notwithstanding some of them pressed out at a private door and escaped, but with some wounds: at length perceiving our principal ends, they told us Corbitant was returned with all his train, and that Tisquantum was yet living, and in the town, offering some tobacco, other such as they had to eat. In this hurley burley we discharged two pieces at random, which much terrified all the inhabitants, except Tisquantum and Tokamahamon, who though they knew not our end in coming, yet assured them of our honesty, that we would not hurt them. Those boys that were in the house, seeing our care of women, often cried, "Neen squaes," that is to say, "I am a woman": the women also hanging upon Hobomok, calling him Towam, that is, "friend." But to be short, we kept them we had, and made them make a fire that we might see to search the house. In the meantime Hobomok got on the top of the house and called Tisquantum and Tokamahamon, which came unto us accompanied with others, some armed and others naked. Those that had bows and arrows, we took them away, promising them again when it was day. The house we took for our better safeguard, but released those we had taken, manifesting whom we came for and wherefore.
On the next morning we marched into the midst of the town, and went to the house of Tisquantum to breakfast. Thither came all whose hearts were upright towards us, but all Corbitant's faction were fled away. There in the midst of them we manifested again our intendment, assuring them, that although Corbitant had now escaped us, yet there was no place should secure him and his from us if he continued his threatening us and provoking others against us, who had kindly entertained him, and never intended evil towards him till he now so justly deserved it. Moreover, if Massasoit did not return in safety from Narraganset, or if hereafter he should make any insurrection against him, or offer violence to Tisquantum, Hobomok, or any of Massasoit's subjects, we would revenge it upon him, to the overthrow of him and his. As for those were wounded, we were sorry for it, though themselves procured it in not staying in the house at our command: yet if they would return home with us, our surgeon should heal them.
At this offer, one man and a woman that were wounded went
home with us, Tisquantum and many other known friends
accompanying us, and offering all help that might be by
carriage of any thing we had to ease us. So that by
God's good providence, we safely returned
home the morrow night after
we set forth.