Historical data on the location and configuration of the fort include the following:



"A substantial palisado . . . of 2700 foot in compass" surrounded the town -- John Pory, 1623.


"The town is impaled about half a mile in compass" -- John Smith, 1624.


"A broad street about a cannon shot of 800 feet long, leading down the hill" -- Isaac de Rasieres, 1628.


". . . the street . . . was longer 1,150 feet" -- J. F. Jameson, editorial comment, 1909.

The "broad street" that led from the fort or blockhouse down the center of the town to the shore came to be known as Leyden Street, and is today divided into Church and Leyden Streets. The fort, completed between June 1622 and March 1623, was built on what is now known as Burial Hill, shown below on a current USGS map as the "Cem[etery]." It is traditionally sited on a slope of Burial Hill at the junction of Spring Street and the original Leyden Street. On the USGS map below, it is placed at the corner of Spring and Church Streets. Leyden Street now commences at its junction with Main Street, the only cross street traversing the outlined fortification. Main Street is probably the original "high way" shown by William Bradford on his 1620 plan of Plymouth. The diamond shape of the fortified town appears to be the only one that fits the 2,700 foot compass of the palisade. The scale in the image below is 1:1,000 feet.
The next image below shows a broader view of the current topography of Plymouth. The general location of the cemetery, and likely location of the original fort, are marked in red on this map. For a closer view, the 1879 Plymouth County Atlas shows locations of key streets and Burial Hill.
The aerial photograph below, taken in March, 1995, is highlighted with an area in red that corresponds roughly to the conjectural fort plan and location drawn above.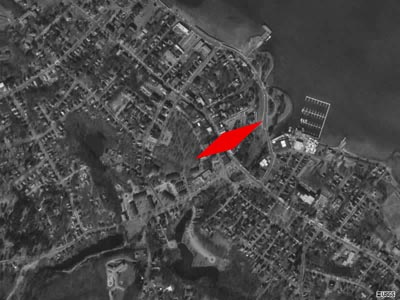 Additional topographic maps and aerial photographs
are available from the U.S. Geological Survey.