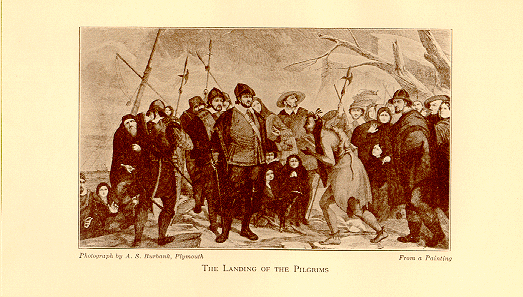 The Landing of the Pilgrims
High ideals in the conduct of life are what survive, and that is why the Pilgrim Narrative stands forth in the pages of every history as one of the great events of all time. Senator Lodge, at the dedication of the Pilgrim Monument at Provincetown, August 5th 1910.
Historiography then is value-influenced construction of past reality. It bears repeating that the values influencing the construction are many and varied. Some are shared widely by members of society, while others are restricted to special interest groups. Some are idiosyncratic, but uncritically become accepted by the lay public . . . . James Deetz, History and Archaeological Theory, American Antiquity Vol. 53, at 16 (1988).
Senator Lodge's statement appears on the inside cover of Albert Addison's 1911 text, which follows a tradition of building and perpetuating, through text and images, an American myth of national origins. At the time Addison wrote this account of a chapter in the history of the "Anglo-Saxon race" (Romantic Story at ix) organizations promoting the heritage of this ethnic group were of increasing popularity (see, e.g., Michael Kammen's Mystic Chords of Memory, at 211-12, 220 (1991)). Such groups focused on celebrating their perception of a stoic and dedicated character of the "Pilgrims" and "Puritans" of 17th century New England (1991: 220).
Addison's text follows strongly in this tradition, providing an account of the Separatists' religious and social history, from old Boston and Gainsborough in England, to Holland, and on to the founding of the Plymouth Colony in the New World.
This type of nostalgic view of the history of the Plymouth Colony contrasted with another trend in the late 1800s and early 1900s of denouncing the perceived character of the members of the Plymouth Colony as overly inhibited, and viewing those persons as having lacked a "joy of living" (1991: 220).
The images and illustrations from Addison's text include some that had not been published previously. One can examine these images as examples of literary and artistic efforts to build and maintain an origin myth. These images help create mythical accounts to the extent that they present highly selective perceptions, and they tell a story which differs from the historical facts of past events and of the persons involved in those events. The documentary and archaeological record of the members of the Plymouth Colony instead indicate a varied and multi-faceted population which suffered far less inhibition than has been attributed to them.