"A brilliant man who made everything seem fun, exciting, interesting, and simple" was world's leading historical archaeologist
Professor James Deetz, who died late 2000, was one of America's foremost archaeologists and certainly the world's leading historical archaeologist. Though at the time of his death he was at the University of Virginia, he had strong Californian connections, spending twenty-three of his forty working years at the University of California. After gaining his university degrees at Harvard, he was appointed to UC Santa Barbara in 1960 where he coincided with Lewis Binford and William Longacre and was in the forefront of expanding interest in New Archaeology. His 1967 Invitation to Archaeology had more impact than any other general book on archaeology. It was one that we used in Ghana, where its low price and easy-to-read style helped a whole generation of Third World archaeologists appreciate the integrity of processual archaeology. While in California, Deetz undertook the very first scientific excavation on a Spanish mission at La Purisima in 1962, which he published in the UCLA Archaeological Survey Annual Report for 1962-63. In excavating the Indian barracks he provided a new initiative by focusing on the process of acculturation rather than on defining the architectural sequence as a help for often poor reconstruction in Spanish mission style. He continued with his work in New England, producing with Edwin Dethlefsen a series of seminal articles on the changing morphology of tombstones, which introduced a generation of scholars to seriation studies.
In 1967 he moved back east to Brown University where he transformed the way that Americans look on the mythology of their founding white ancestors (see note 1, below). He can be regarded as a "reality" archaeologist, making Plimoth Plantation into a living, breathing center for interaction with the past, with Brown students not only wearing the clothes of the seventeenth century, but also playing the roles that were being informed from both archaeology and historical research. From 1978 to 1994, he returned to the University of California, this time at Berkeley where he was also Director of the Lowie Museum from 1979 to 1988. During this time he visited UCLA on three occasions both to lecture and as an external assessor of the Archaeology Program. He very generously assembled a historical archaeology teaching collection for the Fowler Museum when we began regularly teaching historical archaeology at UCLA and served on the doctoral committees of three of our graduate students. Jim will be best remembered as a superlative teacher on many different levels. He could enthuse and explain at a popular level and he was always generous with his time. He was famous for his field schools, such as that on the California coal mining town of Somerville, featured in the PBS documentary Other Peoples' Garbage and later his work at Flowerdew in Virginia. His popular article on the reality of the Thanksgiving meal, in the Los Angeles Times Food Section in 1979, was typical of his ability to pick topics that could inspire interest. He wrote two of the three best books ever published on historical archaeology, In Small Things Forgotten: The Archaeology of Early American Life (1977) is perhaps one of the shortest and most effective archaeological texts for teaching ever produced, and Flowerdew Hundred: The Archaeology of a Virginia Plantation, 1619-1864 reads as much as an adventure story and guide to our discipline as an excellent site report. In his writings he drew attention to the importance of women and Africans in the historical record. Deetz was interested in material culture and many readers will remember his writings by his ability to use the items of everyday life -- such as knives and forks, chamber pots, and candles -- to recreate the past. He also studied the comparative aspect of European settlement in the new worlds opened up by the maritime revolution. In 1984 he began research in South Africa where he demonstrated the applicability of his colonial American structuralist approach to the English and Dutch settlement of the eastern Cape.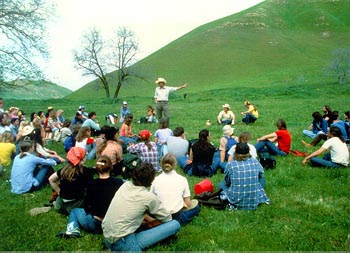 Most festschrifts or essays written in honor of a distinguished teacher or researcher are normally dull affairs left to gather dust on shelves, but the 1992 festschrift in his honor, The Art and Mystery of Historical Archaeology (see note 2), is one of the most exciting looks at the state of our discipline at the end of the twentieth century and of one man's impact on it. Jim inspired devotion and will be long remembered as one of America's foremost teachers. As one of his Berkeley graduates put it, "he was a brilliant man who made everything seem fun, exciting, interesting, and simple. He had a way of taking complicated topics, and making them seem crystal clear. He put the fun into historical archaeology and made almost everyone around him want to be an historical archaeologist" (see note 3) -- a wonderful epitaph for a great man. Jim was a lot more, a warm, funny human being, a lover of bluegrass music, and larger than life. He will be sadly missed.
1. A theme that he returned to in his last book -- The Times of Their Lives: Life, Love and Death in Plymouth Colony (W.H. Freeman, New York), co-authored with his wife, Patricia Scott Deetz, in 2000.
2. This volume was edited by Anne Elizabeth Yentsch and Mary Beaudry (CRC Press, Baton Rouge). Though comprehensive, none of the twenty-one chapters cover his time in California.
3. Dr. Florie Bugarin of California, now teaching at the University of Florida, who completed her doctorate in South Africa.
Merrick Posnansky is a Professor Emeritus in the Departments of History and Anthropology at the University of California at Los Angeles. This essay was first published in UCLA's Backdirt newsletter. The photographs of Prof. Deetz appear at the University of California at Berkeley's tribute to his receipt of their Distinguished Teaching Award in 1982.
© 2001 Copyright and All Rights Reserved
Text by Merrick Posnansky
Illustrations added by
Plymouth Colony Archive editor.