New York Daily Tribune Civil War Maps:
Harpers Ferry and the Region About, 1861


The map below was published by the New York Daily Tribune on July 30, 1861, along with several other maps of war sites and lists of persons known to have been killed. This map shows the major roadways and neighboring towns in the region around Harpers Ferry, the placement of artillery batteries on nearby heights, and the intersection of railroads, rivers and the C&O Canal at this location of considerable strategic importance. Sharpsburg and Antietam Creek, just to the north, would be the location of the single bloodiest day of the War in September 1862. This and other Civil War maps are available in the Library of Congress' "American Memory" archive collections.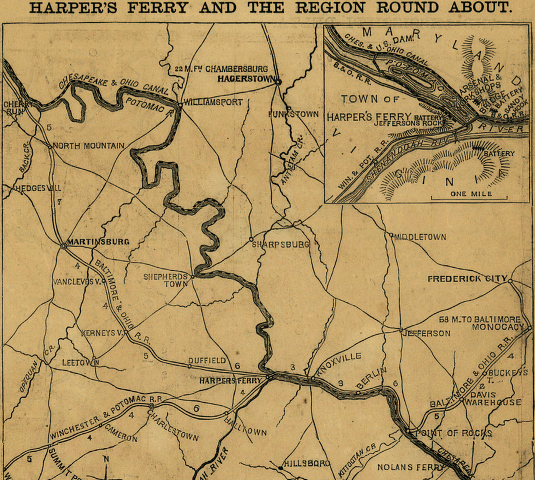 Library of Congress' American Memory Collections
Harpers Ferry Regional Geography page
Return to History of St. Peter's Church
© 2003 Copyright and All Rights Reserved
by Christopher Fennell
Last Modified: December 14, 2007