Demory House Site
Loudoun County, Virginia:
Architectural Features

The photograph below, taken in the winter of 1996, shows the south and east facades of a timber frame house on the Demory site. This site is located halfway up the west side of the Short Hill Mountains, in the Loudoun Valley, approximately six miles south of Harpers Ferry and the Potomac River. A variety of evidence from the archaeological and documentary records concerning this site indicate that the main portion of the house was built in the 1780's or 1790's by the family of John Dimory, his son Peter Demory, or by another family to whom they may have subleased this parcel of land. Architectural details indicate that the upper story was likely an addition or renovation added in the mid-1800's.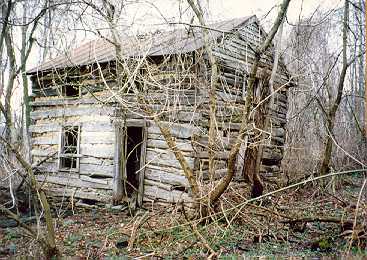 An Analysis of Log House Architecture
in the 18th-Century Virginia Piedmont
Return to Excavations page
© 2003 Copyright and All Rights Reserved
by Christopher Fennell