George Hudson was born in Stonewall Mississippi and began playing the piano at the age of six. When he was later
introduced to the trumpet, all he wanted to do was blow that horn. As a young man, George moved to Pittsburgh were he
attended school at Westinghouse High and the Pittsburgh Musical Institute. He spent much of his free time working in a
variety of local combos. After graduation, he was hired by Zach Whyte's Chocolate Beau Brummels, a Territory Band based
in Ohio and toured throughout the Midwest.

After brief stints with the Kansas City Blue Devils and Bennie Moten's orchestra, George moved on to First Trumpet chair
with Alphonso Trent's Band where he met James Jeter and Hayes Pillar. In 1934, he moved to St. Louis to become a
member of Jeter Pillar's Band with whom he stayed until 1941 when he quit over a pay dispute.

In 1942, "The George Hudson Orchestra" made it's debut. Their first venue was at Tune Town in St. Louis Missouri,
sharing the stand with "The Mills Brothers". The original band included Singleton Palmer, Earl Martin, Walter Stanley, Cy
Stoner, Basil Stone, Benny Starks, Lloyd Smith, Irvin Williams, Leon Goodson, William Rollins, Kimbal Dial, Robert Horn,
Smitty, John Orange and Jimmy Britten. The Orchestra earned quite a reputation for itself playing such legendary clubs as
the Regal and Club Delisa in Chicago, The Harlem Club in Atlantic City, The Apollo Theater in Harlem, and the Riveria in St.
Louis. By 1944, "The George Hudson Orchestra" had replaced Jeter Pillar as the House Band for St. Louis Club Plantation.

As the Big Band Era began it's decline in popularity, "The George Hudson Orchestra" stuck closer to home. In 1950, George
began a second career, teaching music at Lovejoy High (located in Brooklyn, Illinois). Within three years, George had
organized Lovejoy's first marching band. The band began performing in various capacities. Their first street parade,
graduation, Illinois Regional Contest and concert. Under his direction, the band won many Regional and State Wide "First
Place" competitions. The Lovejoy High School Band performed for such dignitaries as Presidential Candidate Adlai Stevens,
Illinois Governor Statton, President John F. Kennedy and Vice President Walter Mondale's wife.

Hamiet Bluiett and Prince Wells III credit George Hudson with teaching them the basics of their crafts while students
members of Lovejoy High School's Band. Both of these gentlemen are recognized for their talents and contributions to the
genre of jazz.

After the death of his first wife, George Hudson married Ruby Dale O'Bannon and made Brooklyn, Illinois, his home for the
last twenty five years of his life. Among the many highlights of his career, George Hudson was also inducted into the Jazz
Hall Of Fame in Birmingham, Alabama, and St. Louis Missouri.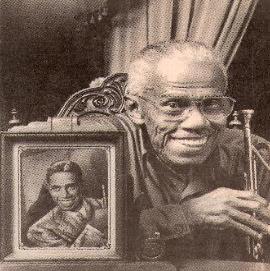 George Hudson
03/07/1910 - 07/10/1996